This episode is devoted to the workhorses of space exploration: the planetary surveyors, space telescopes, and phenomenon-chasing probes that gather the information and samples that scientists use to make their discoveries and postulate new theories.

The episode covers the history and limitations of our probes, the difficulties in aiming, launching, and sustaining them, the key concept of gravitational slingshotting, the new abilities of ion propulsion, early probe info from the moon, Venus, Titan, and Enceladus, the refinement of probe sensors, and data collection in the search for life beyond Earth.

Also discussed is the Kepler Mission (just launched as this episode was made) and the principles and limitations of the transit technique that the Kepler telescope uses to detect extra-solar planets.

Exoplanets discussed include:
51 Pegasi b (It is not revealed that this is Bellerophon)
The episode finishes off with an in-depth look at new high-def ways of investigating our own sun, and the space probe designed to carry out the mission.




Many actual probes and space telescopes appear to be modelled faithfully in CGI, allowing viewers to recognize them and their missions visually.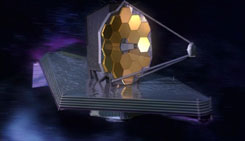 This is the "James Webb Space Telescope", set to launch in 2015 and reported to have 4x the imaging quality of the Hubble Space Telescope.
And the "Ask the Universe" question for this episode is... "How long would it take for a space probe to reach the nearest exoplanet [using the best propulsion available today]?" - Annabelle C., Erie, Pennsylvania.

from the disc sleeve:
Secrets of the Space Probes:
They've discovered water on other planets and snatched the actual building blocks of life from a comet's tail, photographing, drilling and even sniffing new worlds in the quest for life. But can space probes find a new Earth? Or make contact with alien life?

Chapter List:
Robotic Proxies
Propelling Probes
Extrasolar Planets
Analyzing Comets
Solar Probe
Participants include:
Alex Filippenko

Astronomer, supernova hunter
University of California, Berkeley

● regular science consultant to
"The Universe" series.

Amy Mainzer

NASA / Jet Propulsion Laboratories

Geoffrey Marcy

Astronomer, Exoplanet Locator
University of California, Berkeley

● As of the first 300 exoplanets discovered by 2009, he and colleague Paul Butler had been credited with finding more extra-solar planets than anyone else.

Laura Danly

Curator of the
Griffith Observatory in Los Angeles

Clifford Johnson

University of Southern California

Kevin P. Grazier

Planetary Scientist
NASA / Jet Propulsion Laboratories

Travis S. Taylor

Physicist

Todd Hoeksema

Stanford University